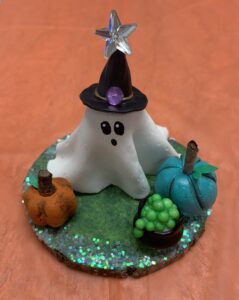 Dates:
October 2, 2023




6:00 pm - 7:15 pm
Ages: Grades 1 and up (adults are welcome to come w/o kids!!). Kids age 4 to Kindergarten can attend with a parent helper
Come create this adorable miniature on a 3 inch wood slice. We'll learn how to make a Clay ghost and while it's baking we'll paint and decorate the items to surround the ghost.
Homeschool parents or adults that want a class during the day-get a group of 4 or more for a daytime slot that day! Email artgirl1965@gmail.com to set it up!
Venmo payments accepted! After selecting Venmo ticket to register, please immediately go to your Venmo account and pay $23 per person to @maureenmarksart (my business sign is my profile pic).
Cancellation policy: materials are purchased and prepared at time of registration so there are no refunds, transfers or credits given for missed class. You are welcome to pick up the materials in the event of missed class.
Details
Price
Qty
Venmo Mini clay Halloween classshow details +
$0.00

(USD)

Sold Out

Mini Halloween Classshow details +
$23.00

(USD)

Sold Out

Age 4-grK with adult helper Mini Halloween Classshow details +
$23.00

(USD)

Sold Out