Dates:
July 1, 2019




5:00 pm - 8:00 pm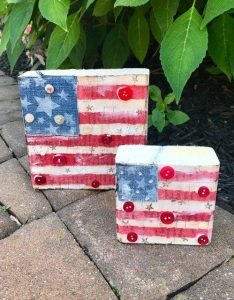 Choose from 4 artworks and day or evening class (please return to calendar to select evening class).  Flexible open studio time allows you to come and go as you please.  If you want to come with your kids you can sign them up to make the Flag Wood set blocks (set of 2 can be made by 2 kids while you work on your art).  Kids 8 and up can be dropped off for an hour to do the mermaid tail or one child to a set of Flag blocks for drop off.
The Wood Door-hanger "America the Beautiful" can be hung inside or in a protected area.  
The Mason Jar Art is on an 11 x 14 canvas.
The Flag Wood Block set contains a 3 inch and a 6 inch square.
The mermaid is tail is a 17" piece of wood with a copper heart insert.
Ages 8 and up is recommended.
Members Only Tickets are for those that purchased a 2019 Membership. 
We're sorry, but all tickets sales have ended because the event is expired.