Dates:
October 27, 2020 - November 7, 2020




12:00 am - 11:55 pm
All pallets are being sold as a take home pallet only (no paint) from Oct 27 to Nov 7 (or see below for in person option). After that date, please email artgirl1965@gmail.com for availability. Paint in any way you like! Choose a mini (18 inches) perfect to hang on a door or prop on a mantle, or large (36 inches) perfect to prop next to a door!  If putting outside a varnish is highly recommended!
In person option: if you have a group of 6 or more that want to come in and use the studio paint you can pay an additional $10 pp and choose a 2 hour time slot of your choice (day or evening as available!).
How to purchase:  
If you have a pallet that you want a design painted on the back of, please check the back to see if it is in good condition.  Repairs such as holes or cracks cannot be fixed.   If it's in good condition you can email Maureen at artgirl1965@gmail.com to order.  Cost is $3 off for a large pallet, $1 off for mini.
Large Pallet: There are 2 designs for the large size, as well as some mix and match options.  For the full size, choose either the "Large Christmas Car", "Large Snowman", or "Large mix and match".  If ordering the mix and match, please email your choices to artgirl1965@gmail.com using 1 letter and 1 number per pallet.
Mini Pallet:  purchase mini pallet by letters.
Orders take 2-7 days.  You will receive an email with pick up info.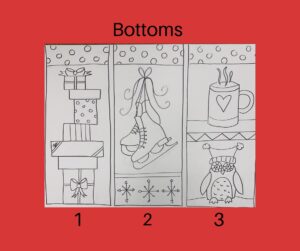 We're sorry, but all tickets sales have ended because the event is expired.